Jag har alltid en slags hangover efter 9 dagars intensivt mässarbete, och det tar ett tag att vakna till liv. Efter en lång frukost med DN, macka, 2 stora latte och ett otroligt kul /dråpligt samtal från Pernilla som då anlänt till Malmö, fick jag lite energi.
Hur härligt är det inte att ha en kompis som förser en med nya dramatiska händelser hela tiden? Lovely!
Hade ett planeringsmöte med Anna W som bjöd lunch på Mocco, jag ska hjälpa A med hennes nya hus i Torekov. Lite pyssel med logistiken och tiden, men vi har i allafall nu en plan.
Har halkat runt på stan och letat mattor och möbler i timmar, därför drogs jag in i varmare bilder igen…
Behagligt designad skylt på Kokomo Beach…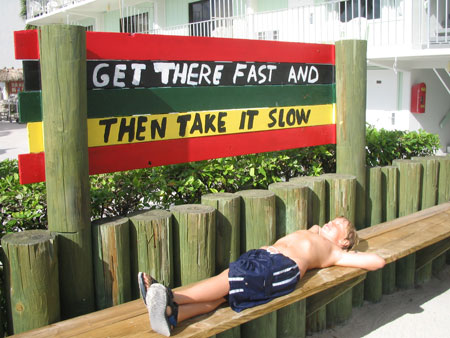 Ooo I wanna take you to Kokomo Well get there fast And then well take it slow Thats where we wanna go Way down to Kokomo…The Beach Boys spelade in sin käcka video här i Kokomo, nära Key West i Florida på det glada 80-talet, och där står tiden stilla…

Less is more, eller? Galet skyltpimpad strandbar, med en förkärlek till hajar
På Chicago flygplats…

… finns den här! Otroligt häftig design för att vara en bänk. Garanterat poppis och välfotograferad.
Kram Susanne